The people, experience, and equipment in the IT age
Pressed parts sections
Our pressed parts are made using the precision 250T press and an NC roll feeder that yields sheets as thin as 6mm. These systems serve the needs of both mass production on progressive lines and small-lot, just-in-time production run by seasoned technicians.
Sheet-metal sections
Our plant is outfitted with a servo-drive NC turret punch press and a 4m bender. With exceptional speed and precision, this equipment handles finishing of both small and large pieces, providing full flexibility to serve customers' wide-ranging needs.
Welded sections
By integrating its sheet-metal and welding processes into a single production line, TATSUMI boosts productivity and slashes lead time. We even support the deployment of general-purpose welding robots to serve a wide spectrum of needs. The result is consistently excellent quality with low product cost.
Sheet-metal sec・NC turret punch press: 
 (5' × 10') × 1
NC turret punch press:
(4' × 8') × 1
Laser beam machine:
1
NC set press: (30t × 3m)
× 1
NC press brakes:
(220t×4m) × 1
(170t × 3m) × 1
(150t × 3m) × 2
(100t × 3m) × 1
(80t × 2m) × 1
(50t × 2m) × 1
(30t × 600mm) × 1
Shirring machines: 
(6.5t × 3m) × 1
(4.5t × 2.5m) × 1
Corner shirring machines: 
(6.5t) × 1
Burr remover
× 1
Drilling machine
× 1
Tapping machines
× 2
Equipment used to make precuts

Fully automated precut-making line for structural materials:
1 line
Horizontal-structural-member line:
1 line
Vertical-structural-member line:
1 line
Beam processing line:
1 line
Circular saw with tilting arbor:
1
Diagonal elevator dish:
1
Angle/valley rafter processor:
1
Groove cutter:
1
Housing sander:
1
Fully automated common lumber processor:
1
Equipment used to make panels

Running saws:
3.6m: 1
3.0m: 1
Horizontal cutter: 2.0m:
1
Crosscut saw: 4.0m:
1
Pressed parts sections /equipment

Double-crank presses:
250t × 1
200t × 3
150t × 1
110t × 1
Single-crank presses:
150t × 3
110t × 2
100t × 2
80t × 3
60t × 4
6 other machines
Welded sections /equipment

Carbon-dioxide welding robots:
14
Carbon-dioxide semi-automated welders:
13
Argon welder:
1
Spot welders:
3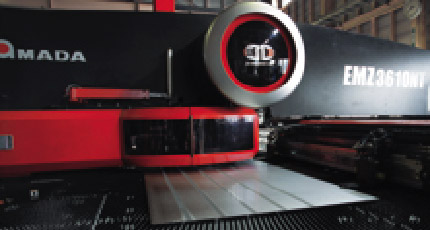 The world's fastest turret punch press at full operation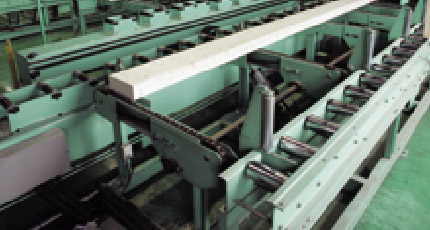 Fully automated pre-cutting equipment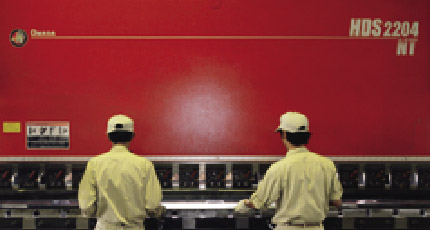 4M press brake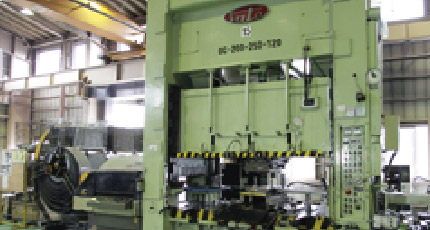 Large-scale automated line press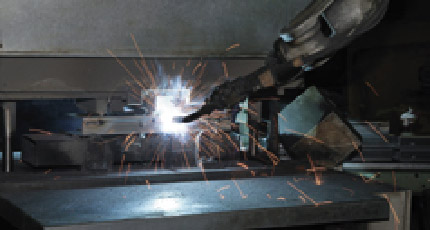 Automated line weld zone